Michigan & CaliforMichigan Yorkies Breeder MI Yorkshire Terrier Puppies For Sale Yorkie Puppies Yorkie Breeder and Exhibitor of AKC Champion Yorkshire. Terriers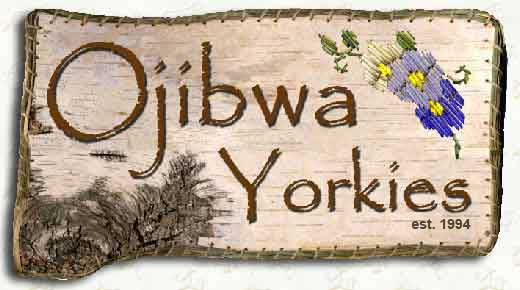 Ojibwa Yorkies
Yorkshire Terriers of Distinction
"Home raised, quality bred little darling yorkies for loving homes"
We are also located on Facebook

---
We are a small show home, Breeding for Excellence since 1992.

Showing is our Hobby and Yorkies are our commitment.
---
Puppies are available occasionally, Breeder referrals gladly given at all other times. We are happy to take inquiries.

Our dogs are well socialized, happy, healthy members of the family.


Our dogs are definitely not kennel dogs, and consider themselves humans that live in the house with us.
---
Most of our dogs have been DNA tested through the AKC. We are working on having them all DNA tested.


We are dedicated to the health and happiness of our puppies.
---
These puppies are home raised with love, not in a kennel environment.



We aim to breed Yorkies that shine either in the show ring or just in their owners eyes. We breed our dogs to the AKC breed standard and to be the healthiest yorkies possible.
---
---
All fees, pedigrees, and customer references are available on request.

I want each puppy that I sell to go to a loving, caring home that is going to as good or better than ours.
---
All of my Yorkie kids are identified and protected by microchip

I am a member of good standing in the American Kennel club and the Canadian Kennel Club
---
| | |
| --- | --- |
| | "If a dogs prayers were answered, bones would rain from the sky." |
---
Photos of some of Ojibwa Yorkies here and in their new homes

FAQ - Frequently Asked Questions
Check here for your questions 1st, maybe it is already answered ... such as How do you pronounce Ojibwa?, or I want a Teacup Yorkie to What is a Pedigree?

How to Show your Dog
Medical Help & Answers
Pet Shopping Links
and much, much more
---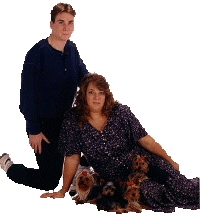 Where we are located:
We live in Baraga, Michigan which is in Western Upper Peninsula of Michigan on the shores of Lake Superior. Baraga is also in the middle of the Keweenaw Bay Indian Community, in which I am a tribal member, hence the name "Ojibwa Yorkies".
Baraga is about a 10 hour drive northwest from Detroit, 9 hours north of Chicago and 8 hours northeast of Minneapolis, (see distance map). The local airport here is in Hancock, MI and Northwest Air Lines is the only carrier. We average about 200" of snow in the winter and the dogs always enjoy playing in the snow. The average temperature in the summer is 75 degrees & the dogs love to swim and chase the waves in Lake Superior.


---


Here are some older pedigrees of famous yorkies gone by...

Just For fun... Are you a dog person?

Awards that Ojibwa Yorkies have won

---

Ojibwa Yorkies
Rose Edwards
baragarose@gmail.com
419 North Superior Ave.
Baraga, MI. 49908
906-353-7474

---
Michigan Yorkies For Sale | MI Yorkshire Terrier Puppies For Sale | Michigan Yorkie Breeders | Yorkie Breeders Michigan | Yorkshire Terriers For Sale MI

The Nursery - The Boys - The Girls - Show Pics - Yorkie Pics - Yorkie Books - Distance Map - FAQ - Limited Registration - Prices - Puppy Names - Famous Yorkies -
Web Rings & Links - Yorkie Standard - Yorkie Star Chart - Lacy's Place - Ojibwa Yorkie's Award Winners

Ojibwa Yorkies Is A Michigan Based Yorkshire Terrier Breeder That Offers Yorkie Puppies For Sale And Yorkies For Sale.